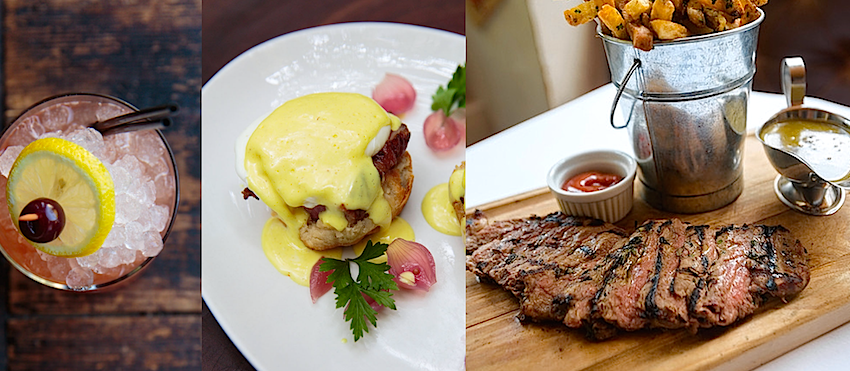 You've just spent the night together for the first time, and things are going great. You're not ready to go home just yet… a leisurely brunch is just the thing. Here's a list of places that will keep the magic in the air with luscious food and enticing cocktails.
Casimir & Co, 1022A Lexington Avenue (at 72nd Street). Apparently Rafael makes the best drinks – ever & anywhere!! Split a cheese plate or order from the prix-fixe menu at this cozy, French-inspired bistro with bottomless Bloody Mary's and Mimosas!
Tilda All Day, 930 Fulton Street (at St. James Place). This sweet Clinton Hill gem serves up lovely breakfast treats like Pain Con Tomate and unique pastries like Earl Grey Pound Cake. Drinks have sexy names too like The Gypsy Slipper, Perle and Dawn.
Barracca, 81 Greenwich Avenue (at Bank Street). Sharable. Spanish-style tapas and bottomless sangria on tap? Yes, please. So Sangria may be the way to go but there's also enticing cocktails like Flores & Ron, Membrillo & Ginebra and Tomillo and Whiskey.
Maysville, 17 West 26th Street. In the mood for something a little stronger? Order a Bacon Bourbon Bloody Mary at this Southern-style Flatiron restaurant.
Red Farm, 529 Hudson Street (between West 10th and Charles streets). This West Village spot serves up whimsical, tasty treats like multicolored dumplings and Katz's pastrami egg rolls. Drinks include Petals and Cranes, White Peach Bellini, and the oh-so cute, Shiso Wonderful!
Vinegar Hill House, 72 Hudson Avenue (between Water and Front streets). Leave the rest of the world behind with brunch in the garden of this Dumbo charmer. Brunch cocktails? But of course! Try the Road Trip, South by Southeast and Bridge Runner.
Now about that $250!
Here's the scoop. In celebration of the launch of NightOwl 3.0, we've teamed up with ten incredible bloggers and nightlife luminaries that you'll want to know and follow. Visit their sites by clicking on the blogs below:
John of TheBostonAttitude.com / Dara of TheSkinnyPigNYC.com /  Tara of ThirstyNYC / Jess of YoungWinosofDC and JessHagadorn.com /  Ryan of ManhattanDigest.com  / Selena of TheDizzyFizz.com / Terry of SeductionMeals.com /  G-LO of ItsJustTheBoozeDancing.com, Bella Magazine, Jane of ATasteOfKoko / and Nick of TheRumCollective.com.
OK Let's get started!  Just go to the entry links below. Each time you take an action listed– following a blogger, downloading the app, signing up for a newsletter – you'll get additional entries, increasing your chances of winning.
NightOwl August Giveaway

Rules: Must be a US resident and 21 or older.