Check out the month ahead as the Mistress of Astrology – Jennifer Angel dishes her advice and details on how to best manage your relationships at home, work and play.
The month kicks off with a solar eclipse, which is a powerful and intense start to September. Mercury is retrograde, making room for research, study and planning. The Sun, Saturn and Neptune cause confusion at the beginning of the month. Planets and interactions in the sign of Virgo put emphasis on organization, details and health and wellbeing.
Jupiter enters the relationship vibe of Libra for the next twelve months. The lunar eclipse in Pisces turns your thoughts inward, but at the same time, a square between Mars, Sun and the Moon can make life seem more intense. Mars and Uranus excite your ambition. Mercury comes out of retrograde on the 22nd. Two Mercury and Pluto trines sharper your instincts, and can provide a moment of realization that transforms the way you think and feel about something or someone.
Beautiful Venus leaves lovely Libra to enter intense Scorpio, where control and jealousy can erupt. The Sun and Jupiter has its yearly conjunction, a positive and powerful interaction, this year in Libra, focusing attention on relationships.  Motivational Mars enters ambitious Capricorn. And the month closes with a new Moon in Libra, highlighting new beginnings and harmonious interactions.

Stay focused on business, Aries, as the eclipse new Moon can bring opportunities your way. Think in terms of what you want to achieve, rather than focus on what you don't want – it's a subtle difference but a powerful one. The lunar eclipse ensures your instincts are sharp now, as is your imagination – take notice of it.  This month, be true to you, and pay extra attention to your personal image – be your best on all fronts.  Mercury retrograde can mess with your productivity and time management, so be strict with whom you allow to enter your day-to-day space. And as the Jupiter moves to your love zone and connects with the Sun, don't spend your entire time sitting behind the desk – romance is hot in your star chart!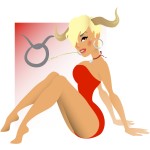 Taurus / April 20 – May 20
Your career can take off now with you being the person to bring a cutting edge creative concept to the table. But don't leave it too long, Taurus, life is largely about timing so when you see an opportunity, be quick to grab it and say what's on your mind! Eclipse Moon energy right at the beginning of the month shines a bright light on your love life, and indicates a time to look forward with optimistic anticipation. Beware of what a certain friend does or says, it may not be what you expect, but deep down, you probably won't be shocked. And with Mercury retrograde, be careful not to be reactive. The Sun has a positive connection with abundant Jupiter as well as Venus with fiery Mars, which can make you even more in demand. And as Venus moves to your love zone later in the month, you will want to balance your time between work and romance – lucky you!
Stay close to home this month, Gemini, and don't even think about neglecting your family and those who are closest to you. Mercury, your ruler, is retrograde, and it's important to watch what you say and how you say it. The solar eclipse in this area of your star-chart at the beginning of the month indicates that a very pleasing situation can take place, one you won't want to miss. Jupiter makes his annual move to the next sign, a position where love affairs can begin, and as the Sun and Jupiter have a positive and powerful connection later in the month, love is definitely in the stars for you. The combined energy of Venus and Mars give romance a helping hand, too. But it's not all about love; the lunar eclipse in your career zone can be a sign of change to come.
Ruled by the Moon, this month's two eclipses will be powerful triggers for you to make significant changes in your life. Firstly, the solar eclipse at the beginning of the month opens the doorway for communications to take place, and later in the month the solar eclipse encourages you to speak your truth, and not be too concerned about what other people think. Mercury is retrograde, which can set up a disturbance of how your message is received by others. Abundant Jupiter makes his annual move this month, and for you, Cancer, Jupiter energy will be in your home and family zone for the next year. And as the Sun will connect with Jupiter later in the month, this area will have your full attention.
The airways open for you to have positive discussions with various people this month, but at the same time, Mercury is retrograde, so don't get concerned if you experience delays. If you are waiting for something to fall into place, it will happen, be patient. The solar eclipse at the beginning of the month along with a connection between Mercury and Jupiter can help money matters improve, even if you do experience delays in getting things moving in the way you want. However, the lunar eclipse mid month can alter a financial arrangement with someone, but it can at the same time open the door for a new situation to take place. Venus and Mars interact and send passionate romance in your direction – make time for love.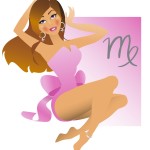 Virgo / August 23 – September 22
Get ready for action, Virgo! Solar eclipse energy in your sign shines a bright light and positive energy on your life, and this is a time to cast your thoughts and aspirations out to the universe for manifestation. Be positive; when you think the best, that's exactly what you can get. However, at the same time, Mercury, your ruler, also in your sign, is retrograde, so the energy is a little muted, but don't let that stop you from believing your dreams can be achieved. Jupiter, the planet of vision and expansion, which has been in your sign for the past year, will make its move to the next sign. This position of your star-chart relates to money and possessions as well as financial security. As such, you could very well see an increase in your cash flow this year, as your efforts are rewarded. Mid month, the lunar eclipse in your relationship zone can put some stress and tension on love matters, but it can also be the trigger to improve your relationship. For singles, this is a great time to deal with love baggage, once and for all.
.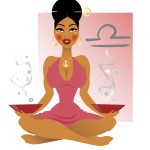 Libra / September 23 – October 22
This next year can present fabulous opportunities for you, Libra, as Jupiter the planet of abundance and growth, moves to your sign this month for a one-year stay and makes it a year of opportunity. The September eclipses can provide the trigger to make changes in your life, and even if it is just a change of how you view something or someone, it will be worthwhile in the big picture. Evaluate your productivity and if you can rearrange your life in a way that it is better for your work-life-balance, as well as for your overall wellbeing, then do it. Your intuition is sharp right now, too, so pay attention to it and as Mercury goes retrograde, this is perfect month to get in touch with how you want to proceed and changes you need to make. But don't neglect your social and love life, Venus in your sign, your ruler, encourages you to enjoy spending time with the people you love and cherish. And towards the end of the month, when Venus moves to your money zone, your finances can start to look better.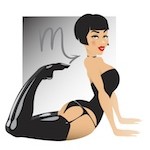 Scorpio / October 23 – November 21
As Jupiter, the lucky planet of abundance moves to the sign before yours, Scorpio, your psychic intuition will be sharp, and you have an opportunity to learn how to tune in and pay attention to your intuition more during this time. It is also a time to delve into your belief system, your spirituality, and get in touch with your more sensitive side. Eclipse energy can be intense, and this month's solar eclipse at the beginning of the month can shine a light on friendships, allowing you to connect with like-minded people or form a deeper bond with someone. Your love life is also on the radar with the lunar eclipse mid-month, and gives you a chance to fine tune your relationship or reset your love-list ideals.  Pluto, your ruler, comes out of retrograde at the end of the month, Mars moves in to greet Pluto, and Mercury will out of retrograde. All this activity indicates that you can move forward with a plan of action. Love planet Venus will also move to your sign later in the month, so make time for romance.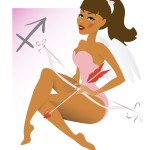 Sagittarius November 22 – December 21
Your focus is likely to be on work and career right now. In this area of your star-chart, the month kicks off with a solar eclipse, positive and potent energy, to create something new. However, at the same time, Mercury is retrograde which can cause delays, but don't stress, things will work out.  The lunar eclipse mid-month shifts your attention to home and family matters, and gives you an opportunity to rearrange your personal affairs. Your ruling planet, the beneficial Jupiter, will depart from your career zone and enter an area that will help you connect with influential people. As motivational Mars moves to your zone of money and possessions, Pluto comes out of retrograde and as Mercury will also be out of retrograde by then, things start to move forward for you on a career and monetary level. If you experience delays through the month, hang tight, things will change. And Venus, the love goddess, moves to the sign before yours, bringing love closer.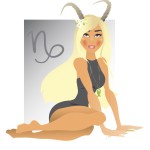 Capricorn / December 22 – January 19
Good news, Capricorn, your business life gets a boost during September. Venus, the planet of connections and finance, sits in your career zone and can align you with people who can be beneficial for career and financial advancement. Jupiter, the beneficial planet of abundance and expansion will make its annual move early in the month, and moves to your career zone for a one-year period. During this time, opportunities come your way. This is not a time to be thinking small, especially with the solar eclipse in your solar ninth house, it is very possible to attract business from around the world – make sure you broaden your vision. And with Mercury retrograde, in the same chart position, it will give you a chance to get organized, so don't be concerned if there seem to be delays. Lunar eclipse energy gets your imagination and creativity going.  Venus moves to an area where love and friendships are enhanced. The potent energy of Pluto, in your sign, comes out of retrograde at the end of the month, and at the same time, Mars makes his move to Capricorn. This combination of this powerful energy transports you into the fast lane for October!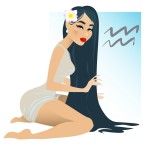 Aquarius  /  January 20 – February 18
Your finances are likely to be on your mind, more so this month, as both eclipses have a significant influence in this area of your chart. Right at the beginning of the month, the solar eclipse energy can help connect you to the people who can help you the most with money, positive partnerships of some nature can occur. However, Mercury is retrograde so don't be concerned if you experience delays, just keep moving in the right direction. Then mid-month, the lunar eclipse provides the energy to revisit and rearrange your money management system making it a positive time to reevaluate how you make and spend your cash and to restructure is necessary. Abundant Jupiter will make his annual move early in the month and to a chart position that can have you packing your bags for travel. You could also consider signing up for some further education. And with Venus making her move to your career zone, it is important that you have a balance between work, love and home.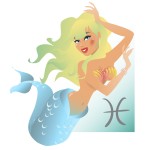 Pisces / February 19 – March 20
You are in the zone this month, Pisces, and what happens next can totally change things, for the better. The month commences with a solar eclipse in your opposite sign, your area of love and relationships, and can indicate that you can give your heart fully to someone. At the same time, Mercury is retrograde, which can cause you to pull back a little, so don't get caught up in fear, instead, feel the fear and move forward. Be mindful of your communication, and try to be as open, honest and candid as possible to avoid confusion. The lunar eclipse mid-month is right in your sign, and the force of this powerful energy will literally allow you to make life-changing decisions. You may discard what is not working to allow a new situation, or you can change your attitude, or perhaps renew a situation. Whatever it is for you, try to stay in the moment and live one day at a time and have faith that everything will work out, as it should. Your co-ruler, abundant planet Jupiter, will make his annual move to a position in your chart that can connect you to powerful and influential people, particularly on an official and or financial basis. Venus helps you get in touch with your spirituality and Mars in your career zone can make everything seem urgent but, will transit out of there at the end of the month, and give you a chance to gather your thoughts.