It's Friday night and it's date night. Jack and I are feeling like something different, new and of course delicious so we venture to a newly opened restaurant named Samui located in the Fort Greene section of Brooklyn, NY. Not knowing what to expect because I normally order the wrong things when I go to Thai restaurants which leaves my experience less to be desired. So, I head into Samui with high hopes and wishing lady luck on my side tonight.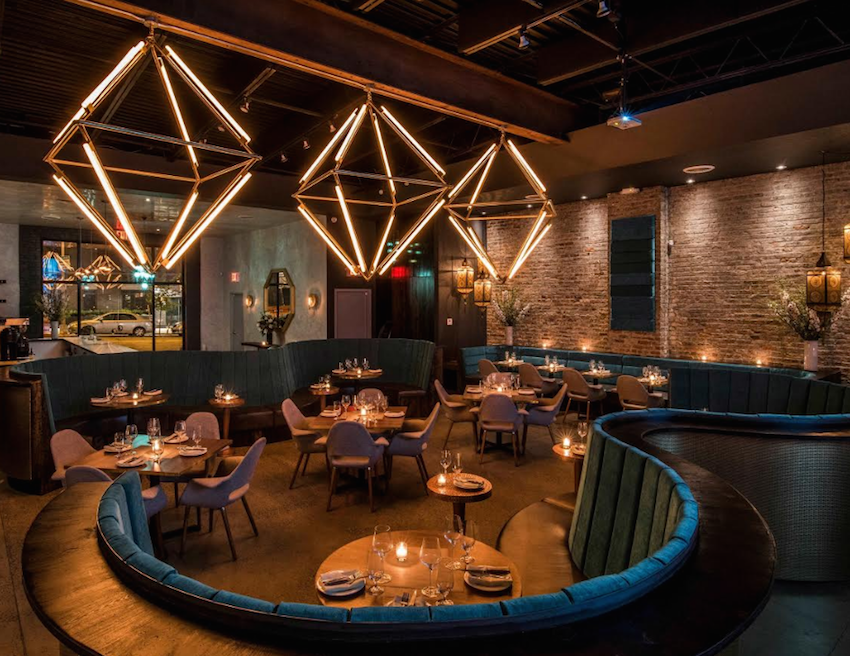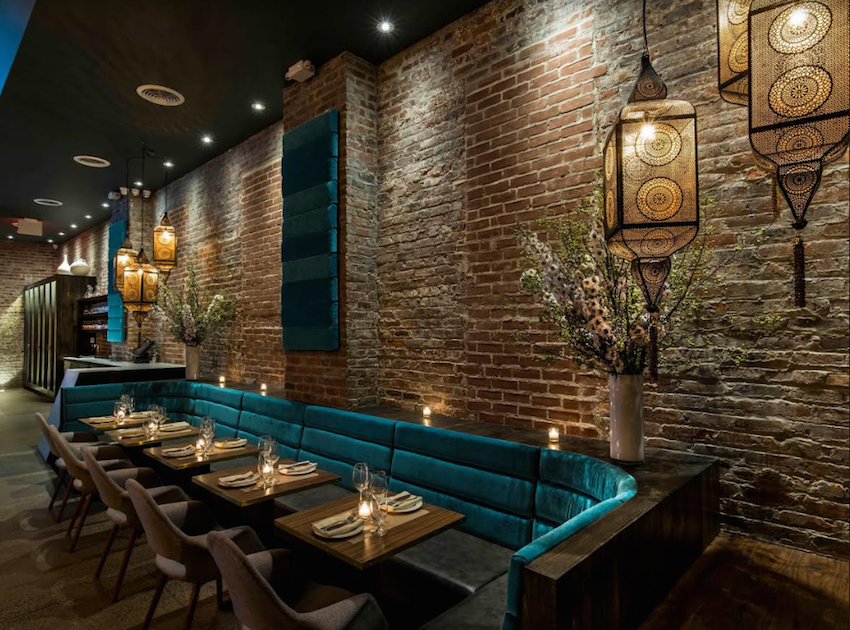 First impression – the decor is slick. Exposed brick walls and Moroccan lanterns perfectly placed throughout. Three large light installations anchor the lighting above the center dining area. Off to the back of the room there is a show. I call it a show because at first glance it looks like the milky way being projected onto the back wall but I later find out its a projection of barnacles under water. Simply beautiful. We are escorted to our seats which are set off to the outside of the main dining area. The table is cozy and the color of the banquette is a soothing teal blue with steel gray leather seats. I immediately feel comfortable as I slide into my seat. I peruse the menu and see it's broken up into appetizers, small plates, soups, salads, noodles, noodle soups, curries, fried rice and big plates. They also have a number of sides that range from Jasmine white and brown rices, sticky rice and green Chinese broccoli.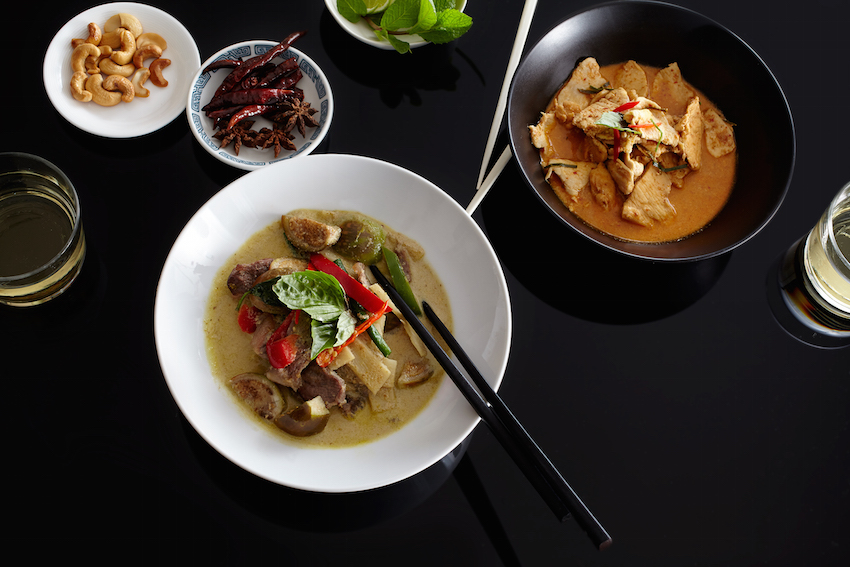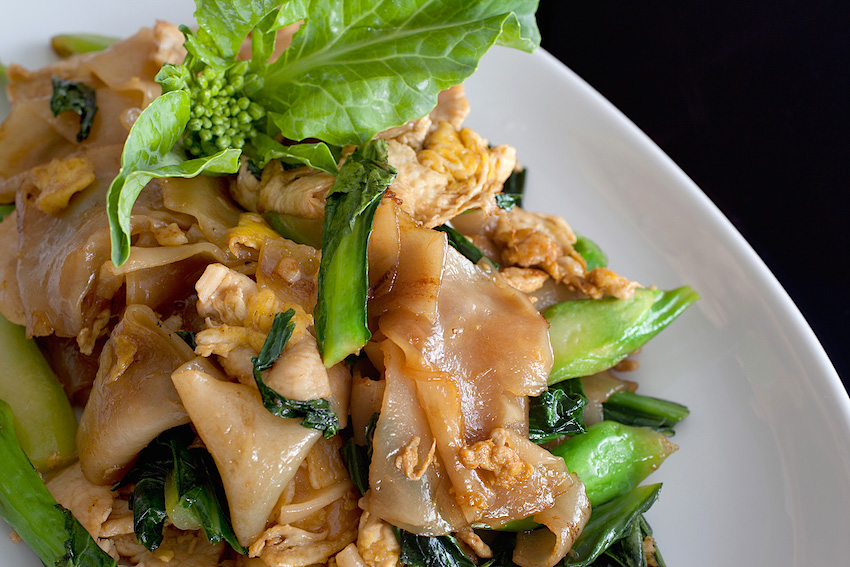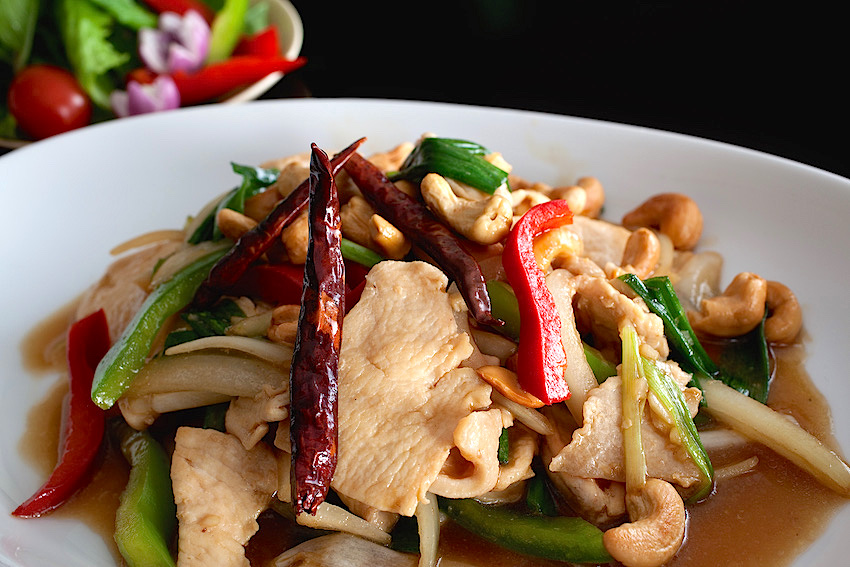 Where to start? I am a little scared because I tend to order things with an overpowering flavor of coconut, which I do not care for. Throwing caution to the wind, I decide to be adventurous and as my appetizer I order the Chili Naked Shrimp (which is raw shrimp treated with vodka and lime and topped with chilis and garlic). Jack, not one for raw plates plays it safe and orders the shrimp roll.While we wait for our appetizers to arrive we sip on a delicious Rioja which has a wonderful peppery finish and a hint of blackberry. In what feels like no time at all, our appetizers arrive at the table. Jack immediately goes for the Shrimp Roll. His eyes light up after the first bite and he says "this is so good, you have to try it." I acknowledge and take a bite of my first raw shrimp. It's juicy with a kick. You can taste the garlic and the chili but it's not overpowering. It's tangy, juicy and spicy – the perfect bite. I smile because it appears that I did right with my first course selection.
Jack is plowing through the shrimp rolls so I think to myself, better get one before its gone. I grab one of the last shrimp rolls, take a bite and immediately close my eyes. The rolls are light and crunchy. I can taste a hint of lemon but have no idea where it's coming from. Either way it's delightful. Unlike any other shrimp roll I've had before; they are so light. Jack looks at me and says "I think I'll try the raw shrimp." I do a double take and say "really?" He reaches over and takes one of the shrimps and says "here we go" and takes a bite. He smiles and says "this is amazing" and proceeds to eat the last of the naked shrimp. We are visited by the chef/owner who proceeds to tell us that everything is edible on the plate – including the flower. Now, I've never eaten an edible flower before and will confess I never knew Pansies were edible, so I go ahead and pop the first flower in my mouth. It's hard to describe what a flower tastes like because I'm not in the habit of going around chomping on flowers but the best way to describe it? It that it tastes a little sweet and grassy at the same time. Determined not to leave anything left on our plates I pop the second flower in my mouth for good measure. Appetizer courses complete – plates are empty. Food delicious.
For the main course I didn't want to order what I normally order at Thai restaurants so I passed over the Pad Thai and Drunken Noodles. Both of which I love and ordered many a times but this restaurant was different and I wanted to stay adventurous. So I ordered the Maksamum Curry Short Rib. Jack ordered the Chicken Pad Thai. Unbeknownst to me, the dish I ordered was made with coconut milk. We order a second glass of the Rioja and wait for the main course to arrive. We notice that the restaurant is pretty busy for a first opening which is a testament to the quality of food coming out of the kitchen. Perfectly timed, our main courses arrive. I can smell the sweetness of the coconut milk as the waiter places the plate in front of me. I am weary because as I said before I am not a big fan of coconut milk but that weariness fades quickly away after my first bite. It's absolutely delicious. It's a little sweet but creamy and savory at the same time. The short rib is succulent and tender easily falling off the bone.
I am heads down in my plate I forget to ask Jack about his Pad Thai. Not to worry, Jack is oohing and aahing over his dish. He says "I don't know about you, but I've had a lot of Pad Thai before, but this is by far the best that I've eaten. Hands down." I wanted to respond but I was too busy stuffing my face with my short rib curry. Absolutely delicious. I take a moment from my deliciousness and look over at Jack's plate, based on what's left you can tell that this was one of those dishes you can look at and tell that its really light and healthy. Like he knew what I was thinking he says " this dish is really light and I'm trying to figure out what is making it so light." I reach over with my chopsticks and take a sample from his plate and the look he gave me I thought our relationship was going to end. Boy-oh-boy did he want to finish his plate. The small bite I was "allowed" to take of the Chicken Pad Thai was delicious. You could taste a little of the tamarind juice and the secret crunch of pickled turnip. The usual suspects of peanuts and bean sprouts were present as well, but the magic of the plate was that it was a light bite. Not the heaviness that usually accompanies a noodle dish like Pad Thai.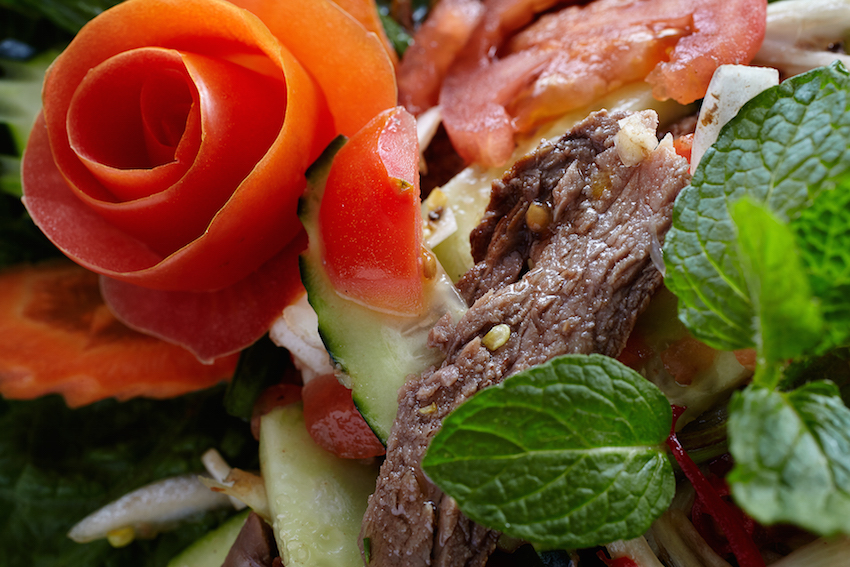 The waiter comes by to check in on us and I say pointing to empty plates "we didn't like it." The waiter smiles and with wide eyes says, "I can tell." We laugh as he clears our plates and asks if we have room for dessert. I am a little full but not so full that I couldn't try one of their desserts. We peruse the dessert menu and there is one dessert that jumps out because I've never eaten the sauce before – so we order the poached pear with pandan sauce. The waiter says its the best dessert on the menu. I'm feeling a little arrogant right about now because everything that I've picked has been absolutely plate licking delicious. I didn't know what pandan was and when the dessert came to the table, the bright but light green sauce was striking against the white plate. Now was not the time to hesitate, so I dig right into the pear and pick up a nice helping of the pandan sauce. Throwing caution to the wind I take a bite. The pear has a wonderful silky consistency. The pandan sauce is outstanding. Its sweet, aromatic, creamy with just a perfect hint of coconut milk.
All in all from the wine to the dessert – Samui was delicious, scrumptious, delightful and we will definitely be back. Would I recommend Samui? Yes, I would recommend Samui for a girl's night out, dinner for a group and it makes the perfect second date spot.
Samui
15 Vanderbilt Avenue, Brooklyn, NY 11205
www.samuibrooklyn.com

International dynamic duo, Thai native and former globally acclaimed jewelry designer A Napadol and her celebrated music producer husband Hani, share their love of entertaining with the creation of Brooklyn's newest hot spot – Samui. A southeast Asian restaurant with a focus on modern Thai cuisine inspired by the food so lovingly prepared by A's grandmother in her tiny home-based eatery in northeast Thailand,  Samui is an exciting addition to Fort Greene's massive Brooklyn Navy Yard area redevelopment.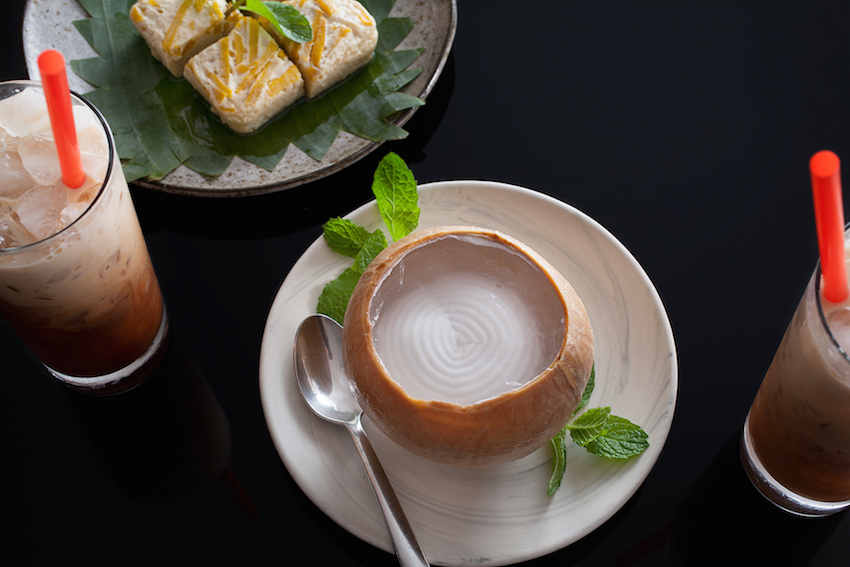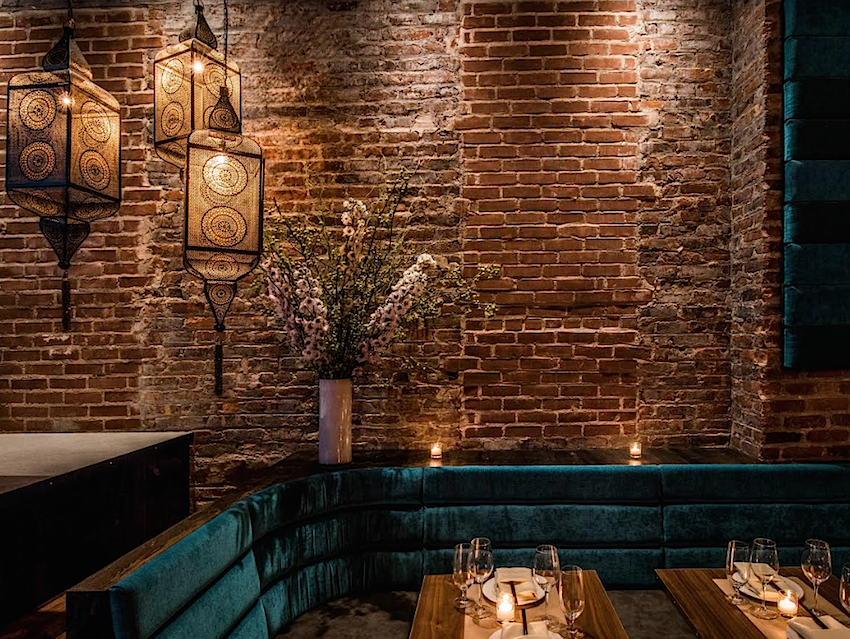 Make your reservations now to experience a stellar romantic meal for two.  Open daily for dinner 5:30 PM –  11 PM Monday thru Thursday. 5PM – 1 AM on Friday and Saturday.  Reservations may be made by calling (917) 909-1032.