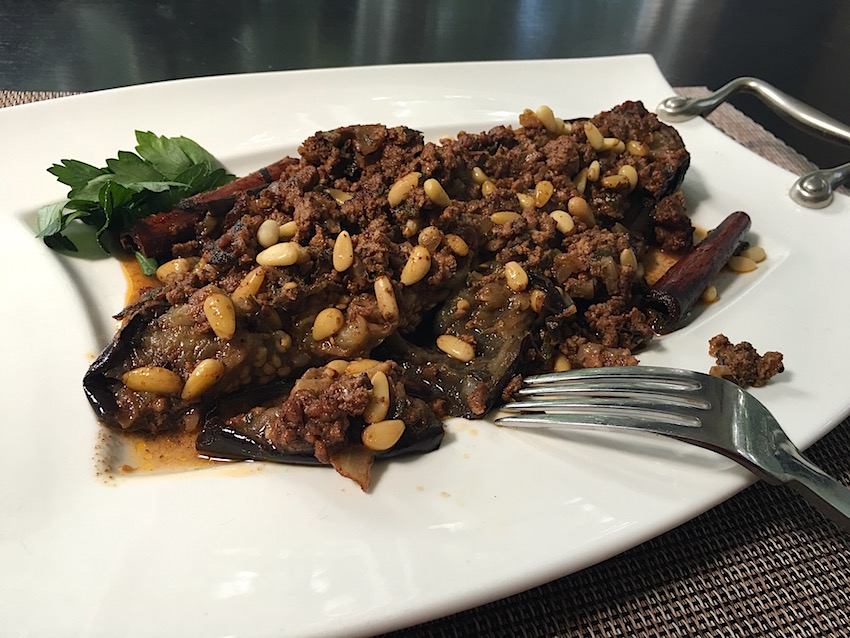 After visiting Turkey a few years back – this was the first dish I experienced. I knew right then and there this was going to be a special culinary journey. Every city I visited had a special memorable meal. This one represents Istanbul, Roasted eggplant halves stuffed with a warmly spiced lamb stuffing made with cumin, paprika, cinnamon, sauteed onions, pine nuts and tomato paste. Add to that amazing line up that the eggplant lamb combo bastes in a tangy lemon, tamarind, cinnamon and sugar broth, and your senses will be on over drive. The best part of this eggplant dish is that it is just as good served hot or cold. And it goes without saying the next day the flavor is even better!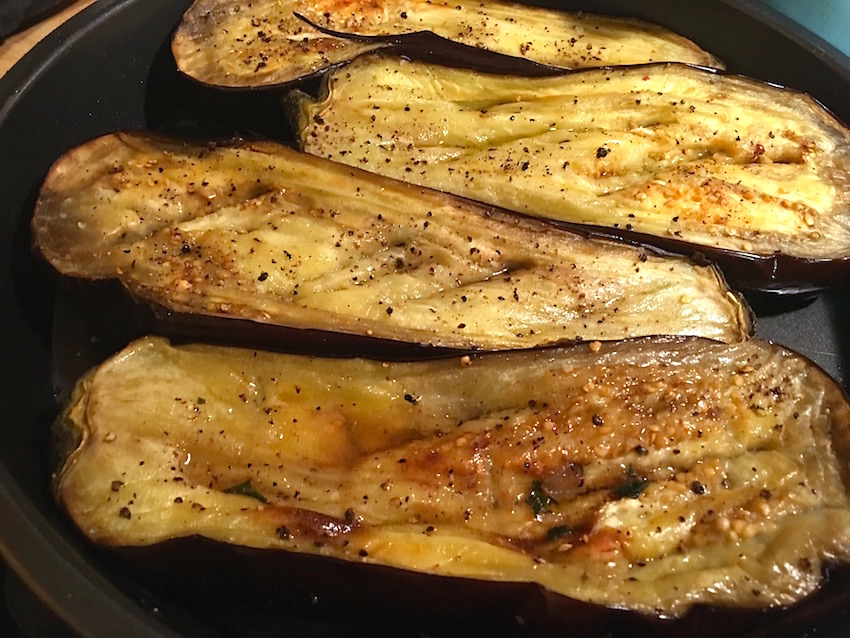 In my never-ending love of the cookbook Jerusalem by Yotam Ottolenghi and Sami Tamini – their recipe made me once again experience that Turkish magic. I served this meal with a luscious salad, however you can pair this with basmati rice, bread or a pickled turnip and beet side dish – as suggested by the authors.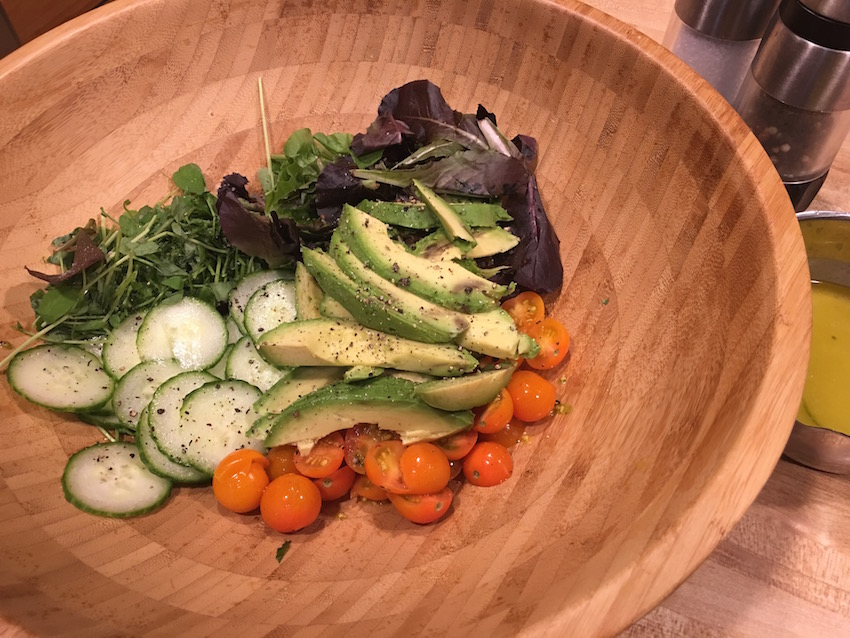 Stuffed Eggplant with Lamb and Pine Nuts
Ingredients
4 medium aubergines (about 1.2kg), halved lengthways (I scored the eggplant to allow the liquids to evaporate)*
6 tbsp olive oil
1 1/2 tsp ground cumin
1 tbsp sweet paprika
1 tbsp ground cinnamon
2 medium onions (340g in total), finely chopped
500g minced lamb
50g pine nuts
20g flat-leaf parsley, chopped
2 tsp tomato purée
3 tsp superfine sugar
150 ml water
1 1/2 tbsp lemon juice
1 tsp tamarind paste
4 cinnamon sticks
salt and black pepper
* A trick I learned from the many eggplant recipes in all of their cookbooks
Directions
Preheat the oven to 425°.
Place the eggplant halves, skin-side down, in a roasting pan large enough to accommodate them snugly. Brush the flesh with 4 tbsp of the olive oil and season with 1 tsp salt and plenty of black pepper. Roast for about 20 minutes, until golden brown. Remove from the oven and allow to cool slightly.
While the eggplants are cooking, you can start making the stuffing by heating the remaining 2 tbsp olive oil in a large frying pan. Mix together cumin, paprika and ground cinnamon and add half of this spice mix to the pan, along with the onions. Cook over medium-high heat for about 8 minutes, stirring often, before adding the lamb, pine nuts, parsley, tomato paste, 1 tsp of the sugar, 1 tsp salt and some black pepper. Continue to cook and stir for another 8 minutes, until the meat is cooked.
Place the remaining spice mix in a bowl and add the water, lemon juice, tamarind, the remaining 2 tsp sugar, the cinnamon sticks, and 1/2 tsp salt; mix well.
Reduce the oven temperature to 375 F. Pour the spice mix into the bottom of the eggplant roasting pan. Spoon the lamb mixture on top of each eggplant. Cover the pan tightly with aluminum foil, return to the oven and roast for 1 1/2 hours, by which point the eggplants should be completely soft and the sauce thick; twice during the cooking, remove the foil and baste the eggplants with the sauce, adding some water if the sauce dries out. Serve warm, not hot, or at room temperature.
Tips: Working with Tamarind Paste
The Kitchen: How to Use Tamarind
LiveStrong.com: The Difference Between Tamarind Pulp and Tamarind Paste