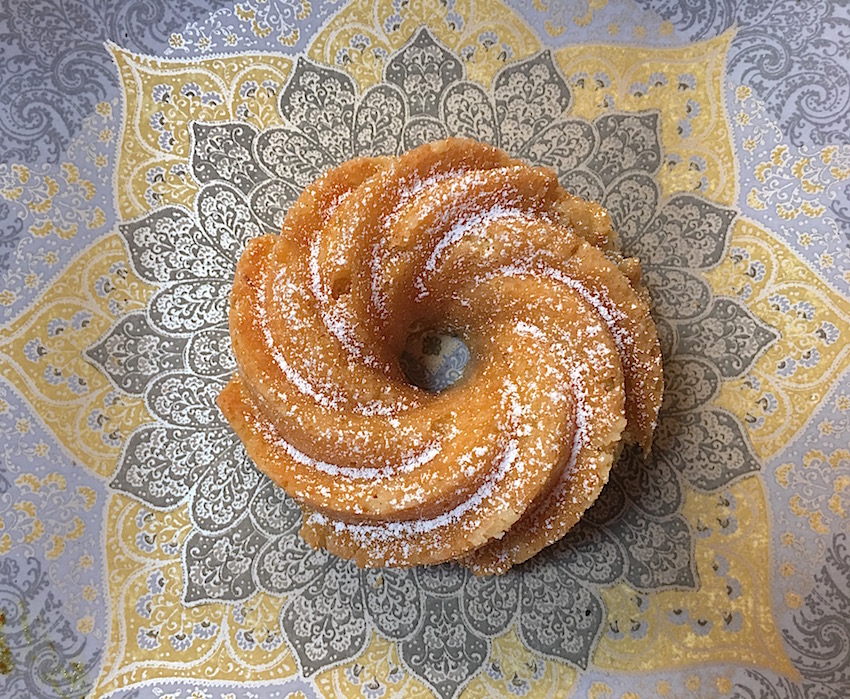 Sweet, light, and slightly tart – a slice of this cake is the perfect ending to a romantic meal for two. Serve as is or with a dollop of creme fraiche – you can also add berries if you like. Simply delicious! All you need is a mini bundt pan like the Nordicware Aluminum Heritage Bundtlette Cake Pan that gives you this sexy swirl design.
Glazed Lemon Cake Recipe
Cake Ingredients:
2 cups flour
1 1/2 cups sugar
1/2 tablespoon baking powder
1 cup milk
5 tablespoons butter
1 teaspoon vanilla
2 eggs
2 teaspoons lemon zest
Glaze Ingredients:
2 cups powdered sugar
1 tablespoon butter, melted
3 tablespoons lemon juice (plus more as needed)
optional – powdered sugar
Directions:
Preheat oven to 350°F (175°C).
In mixer bowl, combine flour, sugar and baking powder.
Add milk, butter and vanilla and mix on low speed until combined, then increasing speed to medium-high for 2 minutes.
Scrape down the bowl and add eggs and lemon zest, mixing on medium-high until thoroughly combined.
Pour into greased and floured 9×9 cake pan.
Bake 35-40 minutes or until the toothpick inserted in the center comes out clean. Cool in pan on wire rack for 10 minutes.
Turn out onto the wire rack and cool completely.
Combine melted butter and lemon juice in medium bowl.
Add powdered sugar and stir to combine; add more lemon juice as needed to reach desired consistency.
Pour glaze over cooled cake.
Dust with powdered sugar and serve.