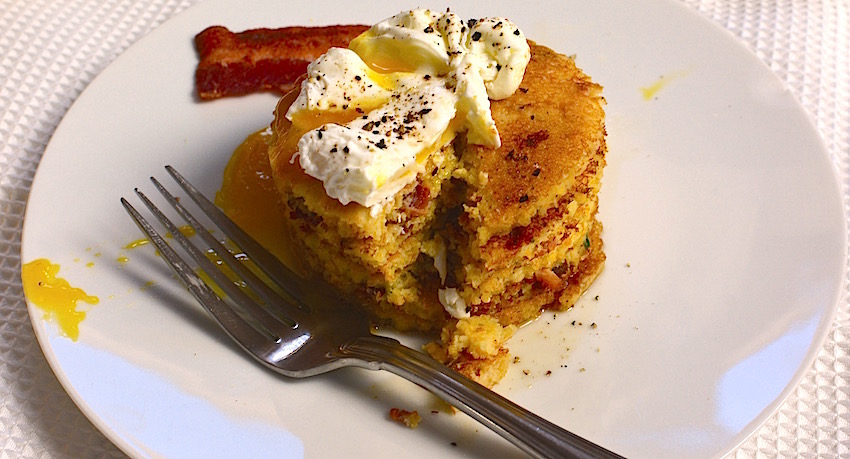 Who doesn't love pancakes? Blueberry pancakes. Chocolate chip pancakes. Pumpkin pancakes. Banana pancakes with walnuts, and of course- maple syrup. But, have you tried a savory pancake? A few weeks ago, Annette of KichAnnette, and I got together for a girlfriend brunch and decided to try a different kind of pancake. And with that, the Savory Bacon Cheddar Chive Corn Cake was born. And why not top our corn cakes with a luscious poached egg? Yum! Naturally, we shared a glass of champagne and called it a day!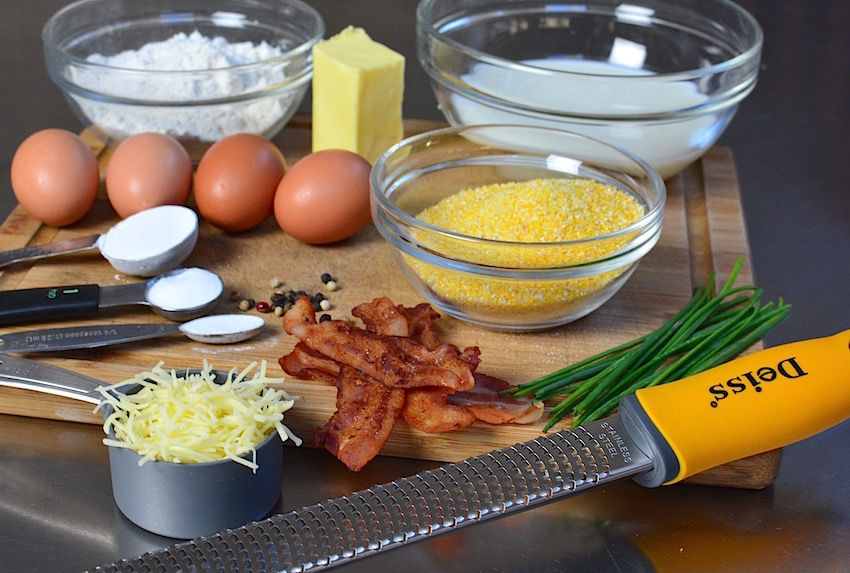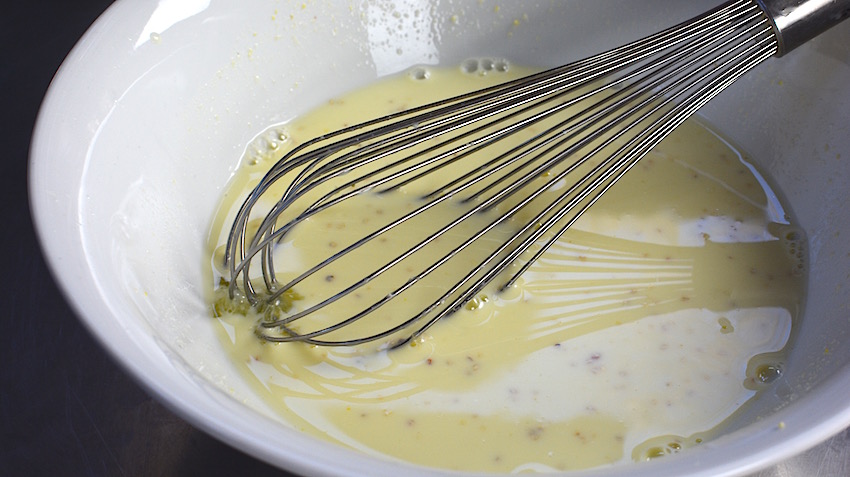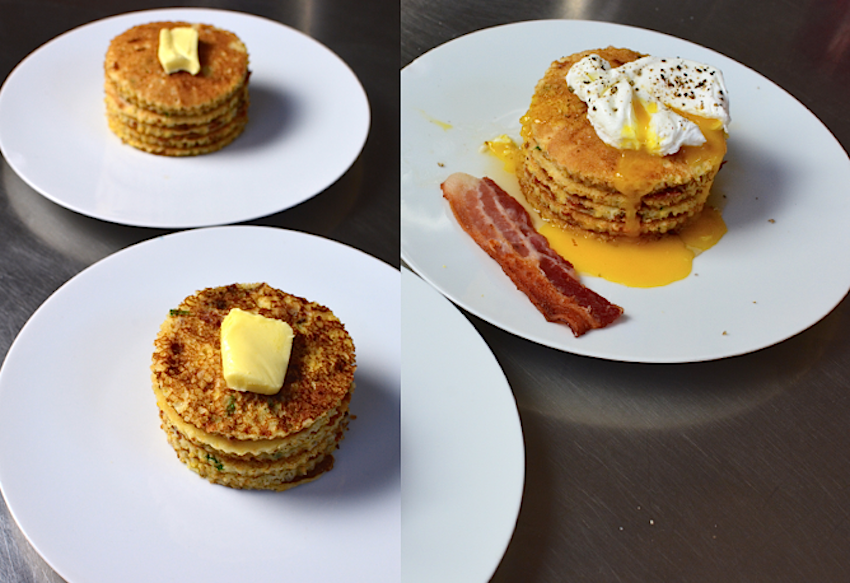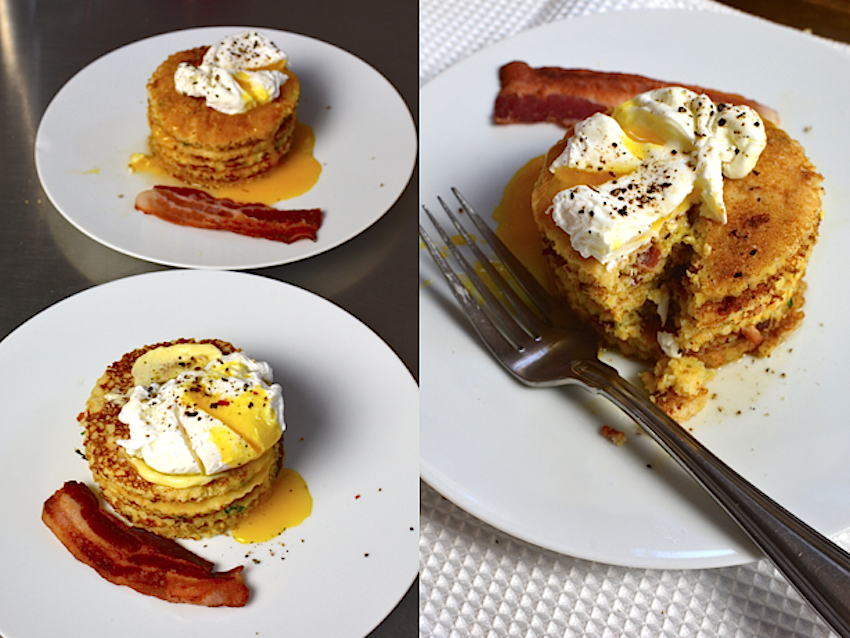 RECIPE:  Bacon Cheddar Chive Corn Cakes
Ingredients
1 cup boiling water
3/4 cups corn meal
1 1/4 cup buttermilk (or make your own: 1 tablespoon of lemon juice and 1 1/4 cup milk, less 1 tablespoon. Let stand for 5 – 10 minutes)
4 large eggs
1 cup flour
1 tablespoon baking powder
1/4 teaspoon baking soda
1 teaspoon salt
1 teaspoon pepper
2 tablespoons fresh chives, minced
1/2 cup cooked, crumbled bacon (10 – 12 slices)
1/3 cup cheddar cheese, shredded
4 tablespoons butter, melted for pancakes
2 tablespoons, butter for cooking (or coconut oil)
Maple Syrup
2 poached eggs
1 teaspoon white vinegar
Directions
Add boiling water over cornmeal, stir and let sit for 5 minutes
Add buttermilk, stir into cornmeal mixture.
Whisk in eggs. Add flour, baking powder, baking soda, salt, and pepper
Stir in chives, melted butter, bacon bits and cheese; mix all ingredients together
In a large non-stick skillet, over medium heat, melt 1 tablespoon of butter
Pour 1/4 cup of batter into hot skillet and cook all pancakes. Add more butter as needed.
Cook until the edges of the pancake are dry and small bubbles rise to the surface.
Flip and cook the other side until a light golden color. If your pancakes cook too dark or too light, adjust the heat as necessary.
As you cook corn cakes, place on a large plate and cover to keep warm. Be sure to add a smear of sweet butter to each pancake as soon as it comes off the skillet. We choose smaller pancakes and for a clean, even look, we placed a cup over each pancake and using a knife, cut around the edges to make even pancakes.
Poach two eggs
To poach eggs, boil about ½ inch water in a pan. Bring to a boil and add a pinch of salt and vinegar. Bring heat down to simmer and slip eggs into the water using a slotted spoon. Use a spoon to keep the egg whites around each egg, and to keep them separated from each other and off the bottom of the pan. Let cook for 3 minutes and remove.
Plating the Dish
Place a stack of pancakes on a plate
Drizzle maple syrup over the pancakes
Place a poached egg over the stack of pancakes
Garnish with minced chives and serve immediately