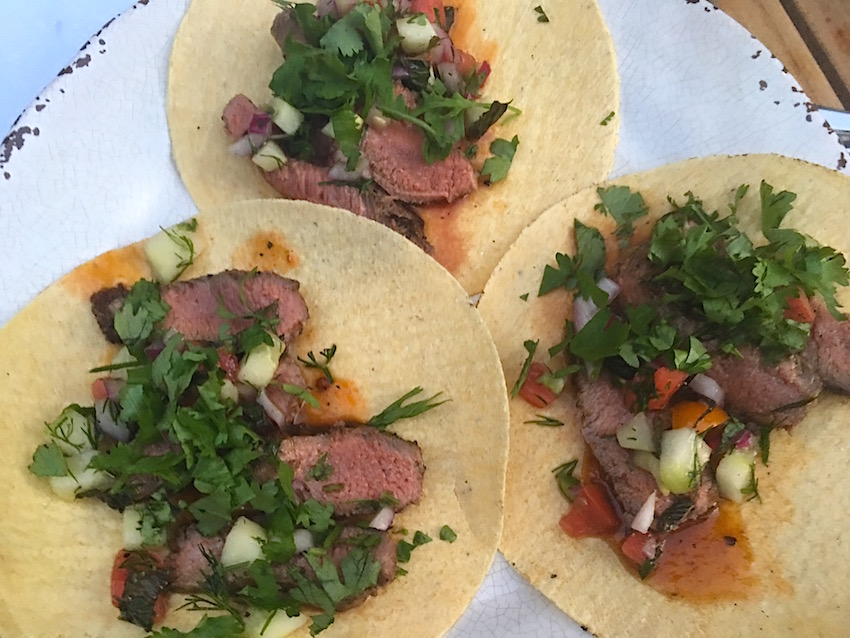 I had Food Network on in the background as I was searching online for a July 4th menu when Bobby Flay's TV show caught my attention. He was biting into an Apricot-Smoked Chile Glaze Lamb Tacos with Tomato-Cucumber Salsa – what's not to love about this? A quick scan of the recipe and I made my shopping list. First, I am a huge fan of this chef and as I would expect, these tacos rock. The apricot/chipotle glaze is a wonderful complement to the flavor of the lamb and the salsa provides a refreshing bite with the Serrano pepper providing a good kick of heat.
I have no idea if Mr. Flay gave the warning at the beginning of the Lamb Taco segment, but let me warn you –this cut of meat is expensive. I found out from my butcher this is the prized little fleshy round found on a baby lamb chop – so cutting away the bone and leaving just the loin is time-consuming for the butcher and costly for the shopper. Did it taste wonderful? Indeed. But I have to wonder if there's an alternate, less expensive cut. For a special occasion – like a hot date, I would recreate this recipe in a heartbeat. Thank you, Bobby Flay, xoxo.
TIPS:
Pre-Prep: The apricot glaze and the salsa can be made hours before you put the lamb on the grill; the flavors will only intensify during this time.
For the tacos: When using the corn tortillas, I would sprinkle a bit of water over them before putting them on the grill to keep them from getting hard. Follow the suggesting timing – you don't want to overcook them or they will get crispy like store bought tacos.
Tortilla trick: As an alternative, here's a trick from a friend who lived in Mexico: Corn tortillas are often made in the microwave which allows you to do more tortillas quickly. The trick is to stack 3 tortillas (has to be three for some reason) wrapped in a (dry) paper towel and to microwave it for 30 – 40 seconds. Doing this longer could result in hard/crispy tortillas, so do a test and adjust according to your microwave. As soon as they are done, start plating your dish and put in your next set of 3
Apricot-Smoked Chile Glaze Lamb Tacos with Tomato-Cucumber Salsa
Ingredients:
Tomato-Cucumber Salsa
2 plum tomatoes, diced
1 serrano chile, finely diced
1/2 English cucumber, diced
1/2 small red onion, diced
2 tablespoons extra-virgin olive oil
2 tablespoons red wine vinegar
Kosher salt and freshly ground black pepper
1/4 cup chopped fresh dill 
1/4 cup chopped fresh mint
Lamb:
1/2 cup apricot preserves
2 tablespoons red wine vinegar
1 tablespoon chipotle in adobo puree
Kosher salt and freshly ground black pepper
1 1/2 pounds boneless lamb loin
Canola oil, for brushing lamb
8 to 12 flour or corn tortillas (8-inch size)
Directions:
Heat a gas grill to high.
For the tomato-cucumber salsa: Combine the tomatoes, serrano chiles, cucumbers and onions in a medium bowl. Add the olive oil and vinegar and season with salt and pepper. Toss in the dill and mint.
For the lamb: Mix together the apricot preserves, vinegar, chipotle puree and salt and pepper in a small bowl.
Brush the lamb with canola oil and sprinkle with salt and pepper.
Grill, covered, until nicely charred, 3 to 4 minutes.
Flip, brush with the apricot glaze, cover and cook until a meat thermometer inserted in the thickest part reads 125 degrees F for medium rare, another 1 to 2 minutes.
Transfer to a cutting board, brush with more glaze and let rest 10 minutes.
Tortillas: While the lamb rests, grill the tortillas for a few seconds on each side; keep warm.
Slice the lamb into 1/2-inch-thick slices.
Brush each tortilla with a little of the glaze, put a few slices of lamb into each, top with the salsa and serve immediately.