Get ready to dazzle your guests with this easy, delicious dinner.
Inspired by a beautifully assembled deconstructed Salmon Cobb Salad I discovered on TasteSpotting, I decided to try my hand at creating a Salmon Board for a Saturday evening get-together with eleven friends. I love the idea of a shareable platter of delicious treats so everyone can pick and choose their favorite combo. Your platter can feature fish, chicken, or meat as the star of your meal surrounded by any combo of vegetables, cheese, nuts, citrus, etc.   This is the kind of dinner you can get creative about. And of course, vegetarians can serve up a mushroom medley or a curry tofu as the central focus/main course.  I see doing this for breakfast too – scrambled eggs or a frittata as the main course surrounded by smoked salmon, tomato and lemon slices, cheese, olives, potatoes, sliced radishes, and so on. Scale down the portions and you have a beautiful way to present a romantic meal for two. Start cooking 1-2 hours before everyone arrives and have it assembled for that WOW factor.I served a simple green salad as a side: lettuce, cucumbers, avocado, and endive with a simple olive oil/lemon dressing.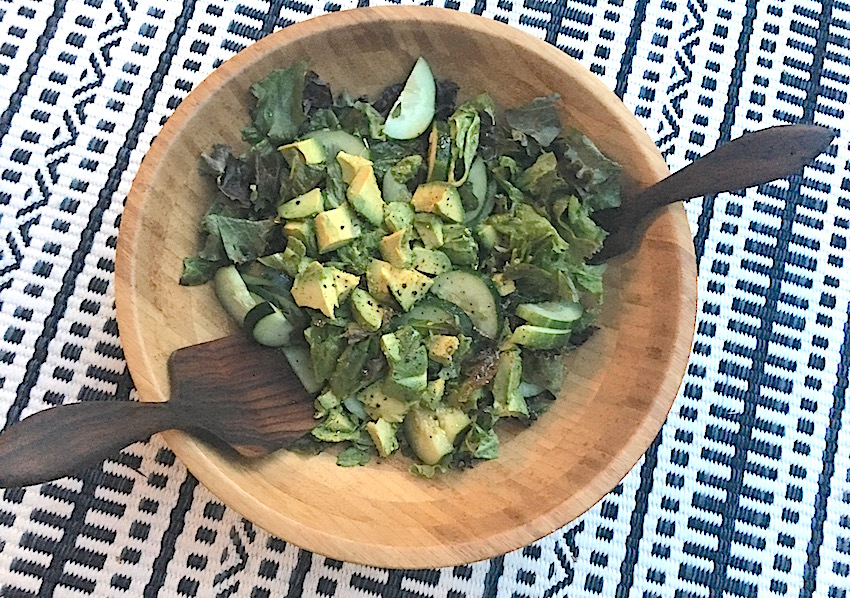 The presentation is easy. Just have all ingredients ready for assembly and get creative. Working on a large wooden board, a tray or your favorite serving dish – arrange vegetables along the edges, leaving a place in the center for the salmon. Lay a few lettuce leaves in 1 or 2 corners and in the center under the salmon.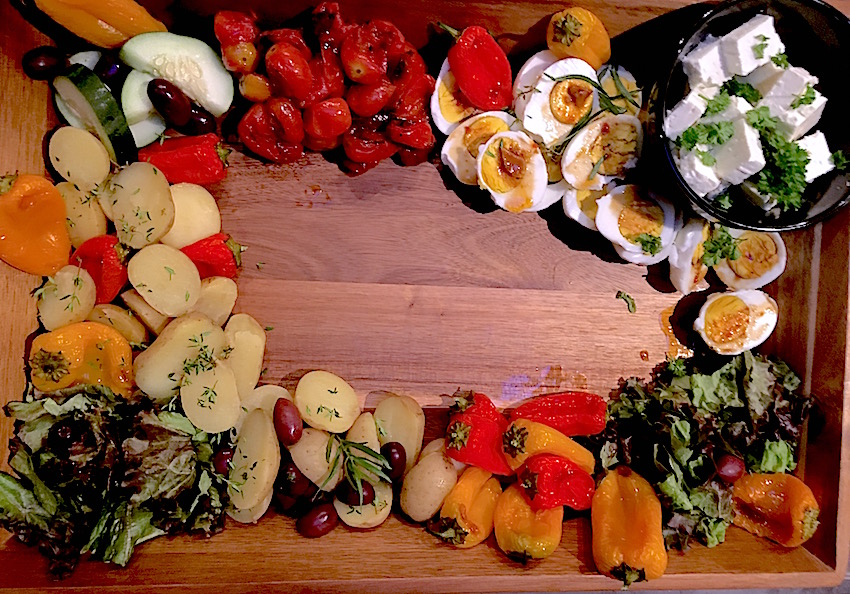 Once all ingredients are in place, add the main course, garnish and you're ready to serve!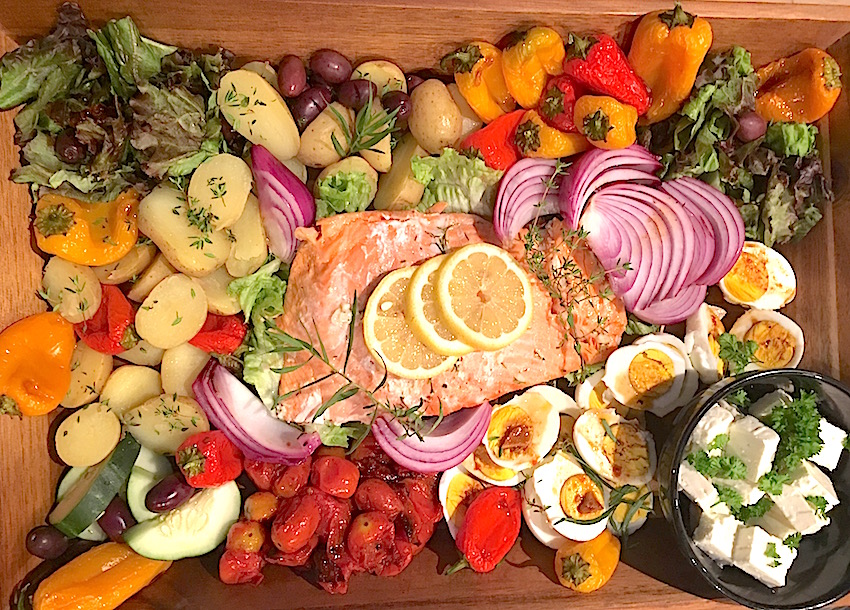 Baked Lemon Garlic Salmon Platter
Ingredients
Easy Bake Lemon-Garlic Salmon (Recipe Here)
Roasted Tomatoes (Recipe Here – go for the fast bake version on the bottom of the page)
Roasted red onion, quartered
Boiled baby potatoes, cut in half lengthwise
Boiled Eggs, cut in half lengthwise
Kalamata Olives pitted
Grilled Baby Sweet Peppers, sprayed with olive oil and grilled
1/2 brick of Feta Cheese, cut in cubes
1 large Cucumber, sliced
Mixed Greens or Large Salad leaves
Pre-Prep: Each of these items take between 10 and 30 minutes to prep. Once grilled or cooked, set aside for final assembly.
In one pot boil the potatoes. Drain the potatoes and cut in half and set aside covered.
In another pot boil the eggs, drain the water and let cool. When cooled, peel and cut the eggs in half. Set aside
Follow the recipe for roasted (sometimes referred to as blistered) cherry tomatoes. Set aside covered.
Grilled the sweet peppers and red onion on the same sheet as the tomatoes (or on the grill if you prefer)
Baked Lemon Garlic Salmon – Recipe Here
The fish takes 15 – 20 minutes to cook and can be served hot, warm or cold. Figure about 1/4 lb of salmon per person.
 Plating the Platter
Take a large serving platter, wooden board or tray, place a small bunch of greens in each corner
Working from the outside in, place ingredients around the board – work with color, and place things that look good together, or pair well together (like cucumber and feta, or potatoes and Kalamata olives).
Place mixed greens or large salad greens in center, place salmon over this and garnish with lemon slices on top
Option: you can sprinkle herbs over the platter like chopped basil or parsley.
Add sea salt and fresh ground pepper to taste.
TIPS:
Scrape the juices from the grilled peppers, onions and blistered tomatoes over the vegetables on the platter. (There will be a little)
Dressing: This recipe for baked salmon is very juicy so you don't need to add a dressing over the fish. However, you may want to sprinkle an oil/citrus based dressing or a Green Goddess Dressing over the vegetables. Or, simply sprinkle a little extra virgin olive oil 

–

but go very light on the dressing or oil.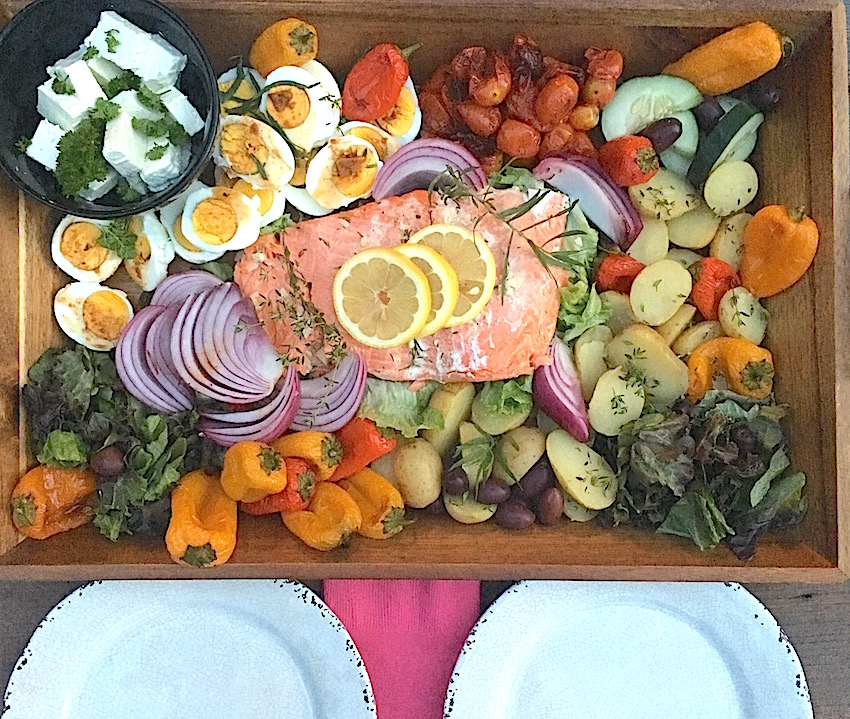 Dinner is Served!  #RomanticMeals #SeductionMeals