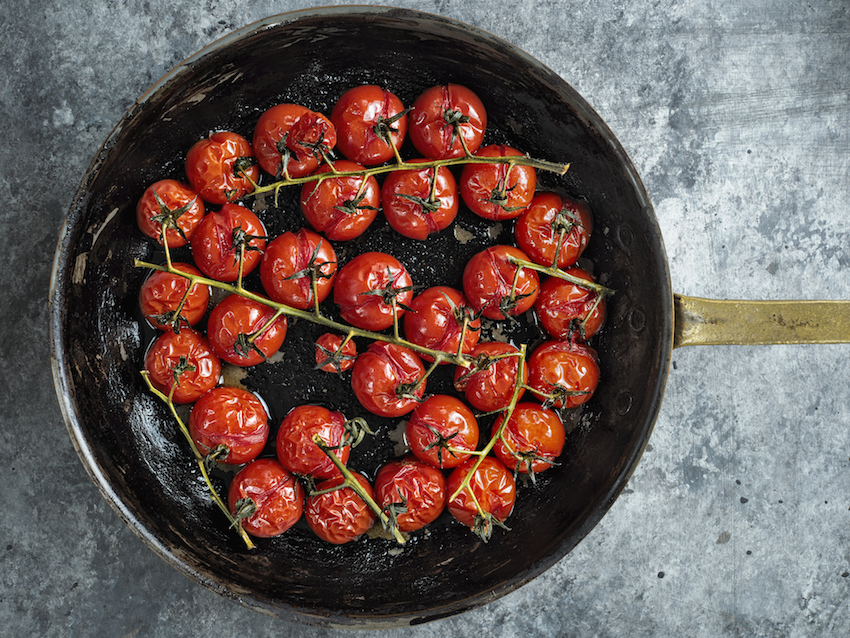 You can't help but love the sweet flavor of roasted tomatoes. This pairs so well with grilled steak, chicken, and lamb. It's one of the best ingredients to toss into a pasta salad (with strips of fresh basil or arugula – YUM!). There are so many applications for this flavor packed treat. Think roasted garlic tomato bruschetta with goat cheese, basil and a dash of sea salt, or a topping for homemade pizza. I could go on and on. Give it a try and share your recipes with us – we'd love to see your creativity!
Here's a dish where I served up roasted cherry tomatoes over baked cod garnished with strips of basil.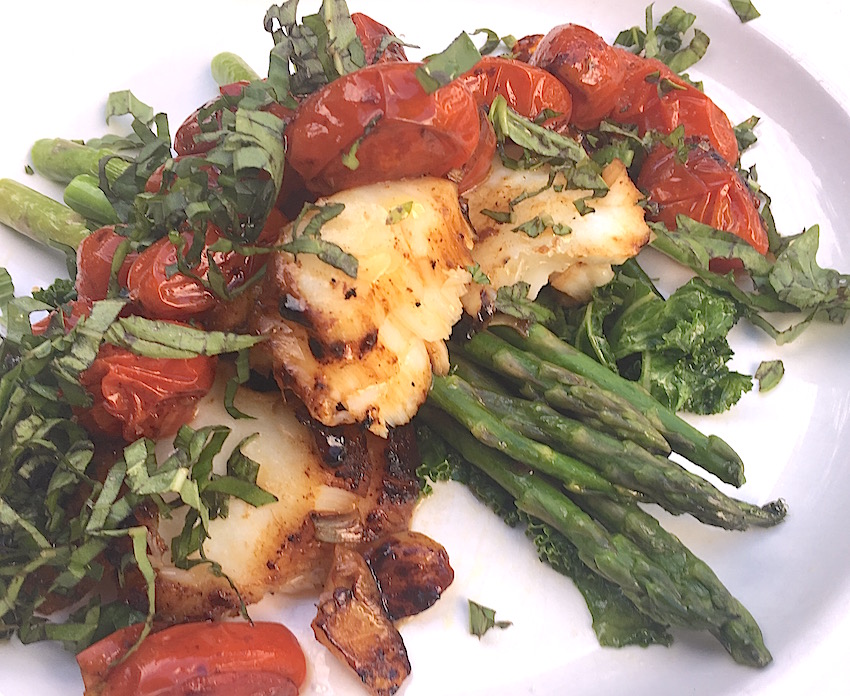 Slow-Roasted Tomatoes
The tomatoes will collapse as they cook; this is what you want. And, with slow roasting, they will not dry out. FYI: You can use plum tomatoes, small vine tomatoes or cherry tomatoes with this same recipe.
Ingredients:
1 pint of tomatoes, cut in half lengthwise or you can keep them whole.
Sea salt and Fresh ground pepper
3 cloves or garlic, sliced
2 tablespoons Olive oil
(option) A few sprigs of fresh thyme or rosemary
Directions:
Preheat oven to 200 degrees F.
In a small bowl, mix together all ingredients
Place tomato mixture on a rimmed baking sheet or non-stick pan (you can also use parchment paper)
Slow bake for 6 – 8 hours
You can serve immediately or let cool, they taste fabulous either way
NOTE: If you don't have 6-8 hours, you can use the same ingredients and fast bake them.
Preheat oven to 450°. Toss all ingredients together and place a rimmed baking sheet. Roast, tossing once, until tomatoes are blistered and beginning to burst, 20–25 minutes. Let cool.