Our Favorite Cocktails
Join us as we share our favorite Cocktail Collection to help make each Seduction Meal as special as it shoiuld be. Perfectly pair your romantic meals with luscious libations that will dazzle and delight your beloved. Whether you're serving a vintage bottle of wine, a sparkling champagne creation, or a beautifully crafted cocktail — you're sure to find an array of libations in the Seduction Meals Cocktail Lounge to help set the stage for your romantic rendezvous. xoxo
Jump Start 4th of July with Love Bites & Bourbon
July 4th weekend is just around the corner and I find myself online searching for something to serve to jump start my BBQ feast.  Keeping it simple is always a plus in my book and this recipe by the Pretty Blog caught my attention. A four-ingredient recipe and no cooking required. Sweet! I'd like to serve up something other than prosecco, beer or wine to start so bourbon seemed a nice pairing.  #LoveBitesAndBourbon
Melon, Blue Cheese, Prosciutto & Basil Canapés / ThePrettyBlog - Click HERE to get the recipe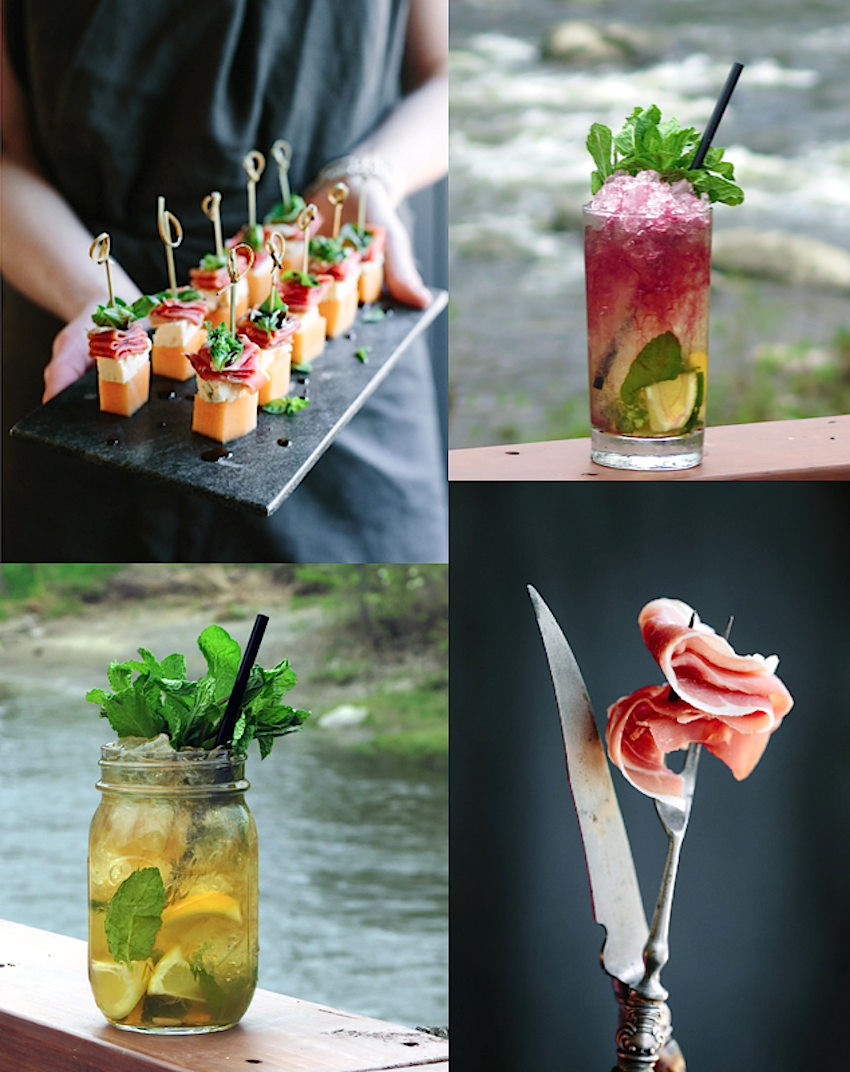 BABY BOURBON SMASH  (lower left)
A very straightforward smash, this is likely what you'd get if you bellied up to most bars and asked for a 'Whiskey Smash'
1 1/2 parts Hudson Baby Bourbon
3/4 ounce simple syrup
2 fresh lemon wedges
A couple sprigs of fresh mint  Club soda
Muddle lemons, 4-6 mint leaves, and simple syrup in the bottom of an Old Fashioned/rocks glass. Add cracked ice, Hudson Baby Bourbon, and top with a splash of club soda. Stir briefly to combine and garnish with a mint sprig.
NEW YORK SMASH (upper right)
Here's an Empire State variation with muddled apple, a splash of ginger ale and a float of port (or red wine), like is called for in a New York Sour.
1 1/2 parts Hudson Four Grain Bourbon Apple
Apple: a couple thinly sliced wedges
1/2 part simple syrup (1:1)
1/4 part Ruby Port (or a fruity red wine if you don't have port handy)
Handful fresh mint Ginger Ale
Add apple slices, simple syrup, and two or three mint leaves to shaker tin (or pint glass half of 'Boston Shaker') and muddle together. Add Hudson Four Grain Bourbon and ice and shake well. Strain over fresh ice in Old Fashioned/rocks glass and top with